Have you started on the balik kampung exodus yet? My dad and brother are going back to hometown today. I will join them on the second day of Chinese New Year and coming back on the fourth day of Chinese New Year. Really much too short, I wish we could stay longer but hotel is expensive.
We will be travelling one day, then we only have one full day and the next day we have to check out and travel again. 🙁 Usually we will travel very early in the morning, scooping the kids out from their beds, still in their pyjamas and straight into the car. They often wake up later, when its time for breakfast and a stop, surprised to find that they are in the car travelling. Hahaha. Its better this way because its not so hot and they get less fretty because they have slept through part of the journey so it doesn't seem that long.
I wonder how mum and dad did it in our time. Travelling in the car with 5 noisy kids fighting with each other must really be terrific. lol. We used to travel for 10 to 12 hours straight on the trunk roads (back then before the highway was available). Second sister often got car sick.
Today, when the kids get back home from school, I will get them to pack their own drawers as part of the spring cleaning process. On Sunday, we will wash the porch and cars together. The kids love that. They also love to pack their own "luggage" for the trip stuffing in books and toys.
I have clipped together some angpows for hanging on our plants outside the house and made some fish made from angpow paper for decorations. I wanted to make angpow lanterns too but I have forgotten how. Haha. Each year I forget how. I had to jolt my memory by visiting this site. It has a good step by step pictorial guide on how to make the angpow fish. Its very nice and cheap decoration. We usually get one or two from the store to paste or hang as well but those are a bit more expensive and wasteful. They look colorful and nice but some of them depict a certain animal zodiac year and can't be reused the next year.
Why bother to clean and decorate? Some people ask me. You are going away after all. Why not just pack up and go? Why all the trouble? Its for the kids. Its for the kids. Chinese New Year is not Chinese New Year without spring cleaning, decorations, mandarin oranges, f&n orange, peanuts, kuaci, cookies, open houses, new clothes, fireworks, etc etc. That is what Chinese New Year is all about.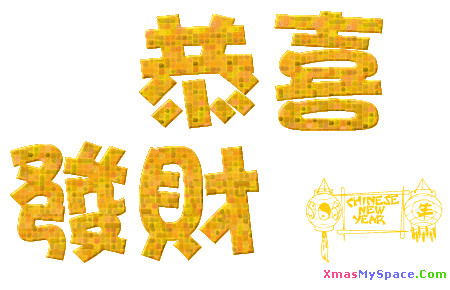 Free Graphics – MySpace/Xanga/Friendster